Black cumin oil is extracted from the seeds of the Nigella sativa plant and has been used in traditional medicine for thousands of years for its many health benefits. Its popularity has now spread to the cosmetic industry, where it is used as a main ingredient in soaps, lotions and other beauty products.
Benefits of black cumin oil in skin care products
Black cumin oil is packed with antioxidants and anti-inflammatory properties, making it a powerful ingredient to improve skin health and appearance. Found to help soothe dry and irritated skin, reduce fine lines and wrinkles and improve overall complexion. Because of its moisturizing properties, it is also a popular ingredient in lotions and creams.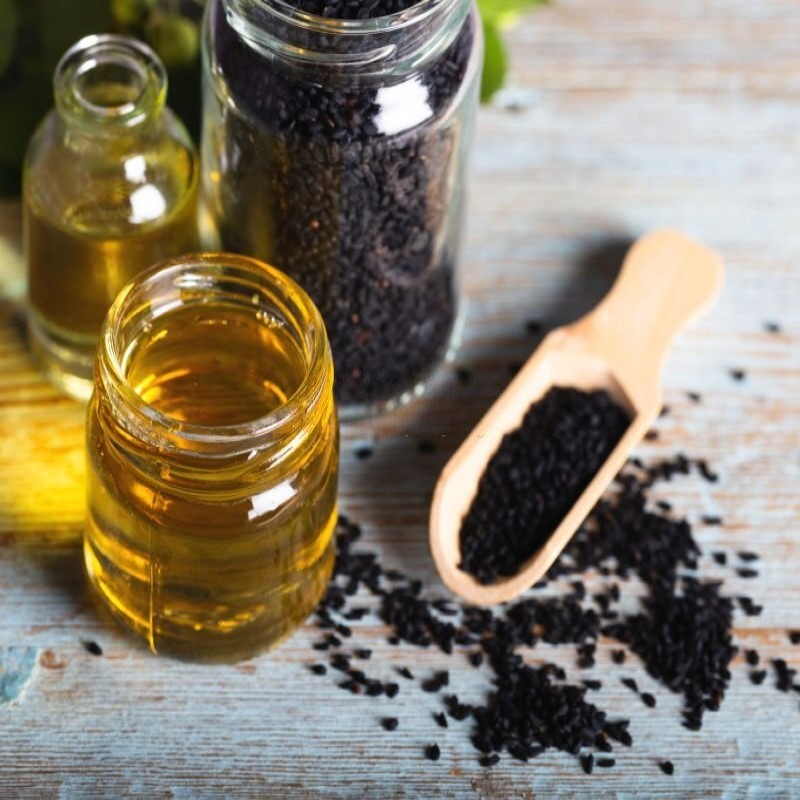 How black cumin oil is used in soaps and lotions
Black cumin oil is often used as an ingredient in soaps and lotions because of its nourishing properties and ability to penetrate the skin's surface. Added to soap, it can help provide deep hydration, leaving skin feeling soft and smooth. In lotions, it can help lock in moisture, preventing dehydration and leaving skin feeling refreshed.
How to incorporate black cumin oil into your skincare routine
If you are interested in trying black cumin oil as part of your skin care routine, look for products that contain the ingredient. You can also buy the oil in its pure form and add a few drops to your existing skin care products. It is important to note that although black cumin oil is generally considered safe, it is always best to do a patch test before using a new product to make sure you are not allergic.
Black cumin oil
Black cumin oil is a versatile and powerful ingredient that can provide numerous skin benefits. Whether you are looking for a way to soothe dry and irritated skin, reduce fine lines and wrinkles, or simply improve the overall health of your skin, black cumin oil is a great option to consider. So be sure to include it in your skincare routine for best results.
Wholesale black cumin oil
Wholesale black cumin oil has become increasingly popular in recent years due to its increasing popularity in the cosmetic and skin care industries. Wholesale purchasing allows manufacturers and formulators to purchase large quantities of black cumin oil at a discounted price, which can help reduce production costs and increase profitability. In addition, it provides an efficient and easy way to obtain the ingredient so that manufacturers can quickly and easily incorporate it into their products.
| Property | Value |
| --- | --- |
| What is it? | Black cumin oil is extracted from the seeds of the Nigella sativa plant. |
| Use in soap | 1-5% |
| Use in skin care products | 1-10% |
| Use in hair care products | 1-5% |
| Well-known products in which it is used | Soaps, lotions, creams, shampoos, conditioners |
| Advantages in formulations | Moisturizing, nourishing, anti-inflammatory, antioxidant |
| Amount of free radicals | High |
| Amount of antioxidants | High |
| Amount of anti-inflammatories | High |
| Amount of fatty acids | High |
| INCI | Nigella sativa seed oil |
| Saponification value in NaOH | 192-198 mg KOH/g |
| Insurance value in KOH | 140-145 mg KOH/g |
| CAS | 8015-86-9 |
| EINCS number | 232-335-6 |
| HS customs tariff code | 1515 90 99 |
| How is the plant or nut harvested? | Plant |
| Production method | Cold pressed |
| Production Process | Extraction of oil from Nigella sativa seeds |
| Color | Light yellow to golden in color |
| Viscosity | Light to medium |
| Origin | Middle East, Mediterranean, Asia |
| Fragrance | Mild, slightly spicy |
| Absorption rate | Quick |
| Approximate melting point | -20°C |
| Similar oils | Black seed oil, fennel seed oil, anise seed oil |
| Storage and shelf life | Store in a cool, dry place. Up to 2 years shelf life. |