The CLP Regulation is a 2008 European Union regulation that aligns the EU system of classification, labeling and packaging of chemical substances and mixtures with the globally harmonized system. In order to sell your candles and craft products to the public, you need to make sure that all of your products comply with the CLP regulation. Your CLP label must be firmly affixed to one or more surfaces of the packaging of your product that immediately contains your substance or mixture.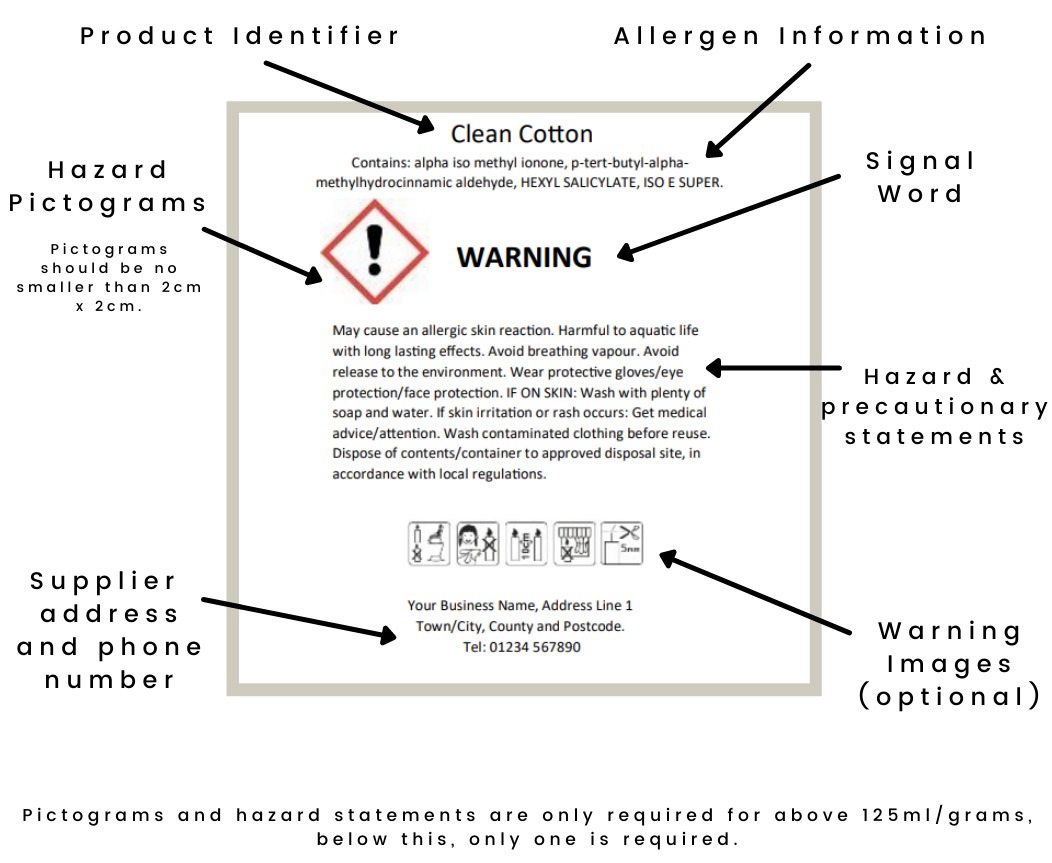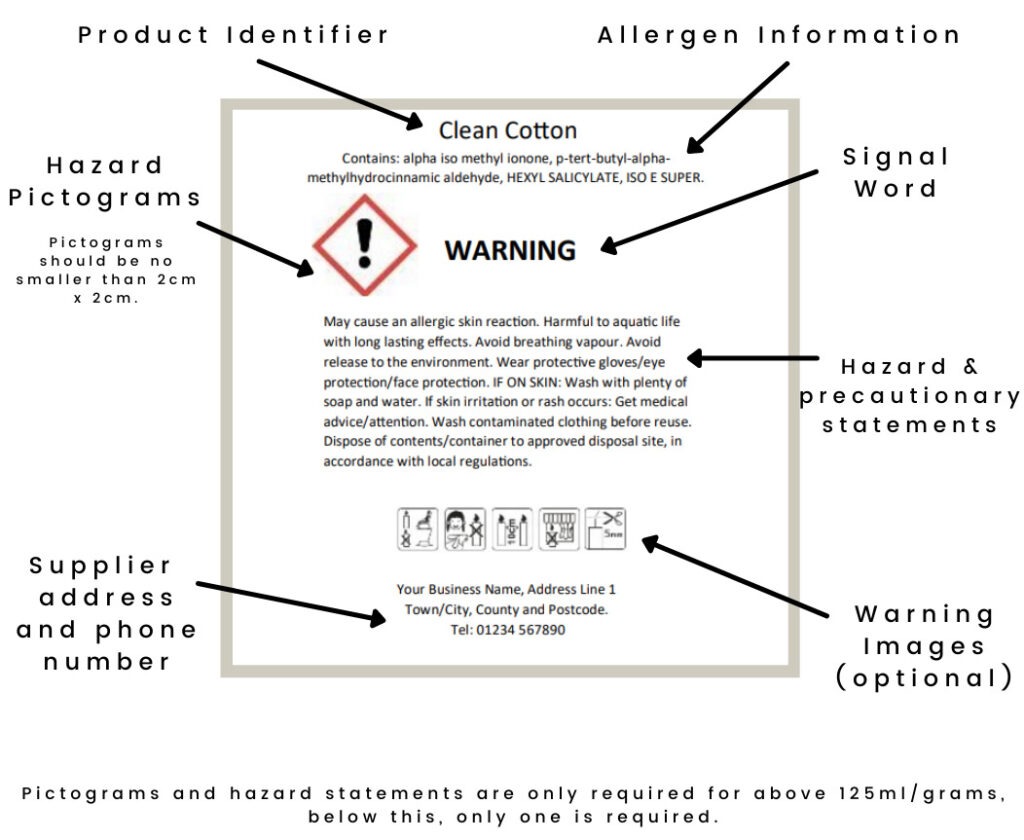 Product Identification
This is the name of your product, fragrance or blend and should clearly indicate what the item is. You can include other things besides the name, such as a batch number or a SKU. Your product identification should be at the very top of your label so that the product can be easily identified.
Allergen information
Allergen information describes all the allergenic ingredients that constitute the hazards of your product. According to the regulations, no more than four chemical substances may appear on the label, unless it is necessary to include more because of the nature and severity of the hazard.
Signal word
A signal word tells your client whether a hazard is serious or minor. The label shall contain the relevant signal word in accordance with the classification of the hazardous substance or mixture. If your product presents a more serious hazard, the label should include the signal word "hazard," and for less serious hazards, the signal word "warning."
Hazard statements and precautions
Regarding hazard statements and precautions, your label must contain the relevant hazard statements that describe the nature and severity of your product's hazards. Your label must also include relevant precautions, which advise on measures to prevent or minimize adverse effects on human health or the environment resulting from the hazards of your product.
Hazard pictograms
A hazard pictogram is a pictographic representation of a particular hazard your product may present. Thus, the classification of your substance or mixture determines which hazard pictograms must appear on your label. You should display icons for all associated hazards. With a CLP, your hazard pictograms must be in the shape of a square with a pointed diamond shape and a black symbol on a white background with a red border. It is also worth noting that each hazard pictogram should cover at least one-fifteenth of the area of your label, but the minimum area should not be less than 1 square centimeter. Pictograms should not be smaller than 2 cm x 2 cm for a limited quantity. Pictograms and hazard statements are only required above 125ml/gram, below which only one is required.
Address and phone number of supplier
For insurance and liability purposes, you must give your client your address and phone number. By law, customers have the right to know with whom they are entering into a contract. The main laws related to this are the Companies Act 2006 (whether you are a Limited Company or not) and for websites the "e-commerce Regulations." This makes it easy for customers to contact you about the above or issues related to your product. You still need to provide an address and phone number even if you don't have a business; this includes your business name, the name of the legal owner and a geographic address to which legal documents can be sent. These requirements apply to receipts, invoices, orders and correspondence issued in connection with your business. Your data make you and your company easily traceable.
What % CLP label should I use?
When creating a CLP label, you must use the correct percentage. You can overestimate your odor load, but not underestimate it.
If you make a candle or wax melt, we recommend using about 6-10% fragrance oil, that's why you can use our 10% CLP label because it covers everything under 10%, you don't need a 6% CLP because the 10% still covers you.
If you're making a reed diffuser, cream spray or plugin, we recommend using about 15-25% fragrance oil, that's why you should use our 25% CLP label because it covers everything under 25%, you can't use a 10% CLP label, for example, if your charge is 15%, you should overestimate.
Because our Augeo Reed Diffuser Base is hazardous, we have provided an 80% SDS that you must use if you sell it.
Where should I place my CLP?
Your CLP must be visible, easily readable and in a horizontal position.
If you cannot attach your CLP to your product because of its shape, you can attach it with a flashing label where the same rules apply.
Your CLP should be on your finished product. If you put your product in a box, your CLP should be on the product and not on the box.
Which diffuser bases are dangerous?
Our Augeo Reed Diffuser Base is hazardous and must be on your CLP label, when used alongside a perfume you must create a combined CLP label.
Using our website to find your CLP
Fragrances contain a range of different chemicals that are classified as potentially harmful and must be listed on the packaging. The chemicals in each perfume are all different. We have a data sheet available for each fragrance we supply.
A candle can generally contain 10% fragrance oil, so we supply a 10% information sheet for each scent. Go to the product page of the fragrance and there you will find the MSDS.
Once downloaded, open the datasheet and scroll to section 2.2 "Label Elements.
Everything in this section should be put directly on the label of your candle.
CLP labels and safety data sheets come in 100%, 25% and 10%. If you make a candle with 10% fragrance oil, then a CLP of 10% is sufficient. If the 10% is not there then you can also use the 100%. When making diffusers, you can use up to 25% fragrance oil, so a CLP of 25% is fine. You may notice that the icons may be different at a different percentage. This is because what may be considered harmful at 100% is not so at 10%.